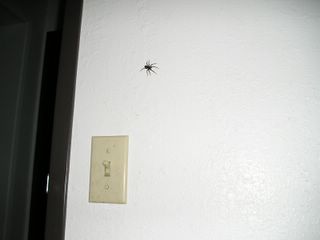 So, i was sitting in my room minding my own business, playing warcraft or something, when in comes this spider.
I booted its butt right back outside.
Anyway, Eli is putting the final touches on our first EP which will be called 'Malibu Mudplow' and feature such hits as 'Xenon' and 'I want to be a Post-modern Hunter Gatherer'. We were supposed to record 'Suck at Boats' or 'Indie Party' today but we watched Kill Bill and i applied for a job instead. Oh well.